We must strengthen our graduate and postdoctoral programs to attract and recruit high-caliber students and young researchers.
In 2007, Rice created the dean of graduate and postdoctoral studies position to build the infrastructure, systems and programs that support graduate and postdoctoral students. At the same time, our faculty members, who are known for providing meaningful research opportunities and professional mentoring, continue to be our No. 1 recruiting tool. New Ph.D. programs in art history, business, sociology, systems, synthetic and physical biology and our first dual Ph.D. in history with the University of Campinas in Brazil have allowed the university to recruit remarkably talented young researchers, while increasing the number of doctoral degrees granted by 72 percent since 2005. Additionally, the significant expansion of our professional master's programs in science and engineering allow individuals to maximize their work experience with advanced education. In total, our graduate student enrollment has grown more than 40 percent since the fall of 2005.
Graduate Student Enrollment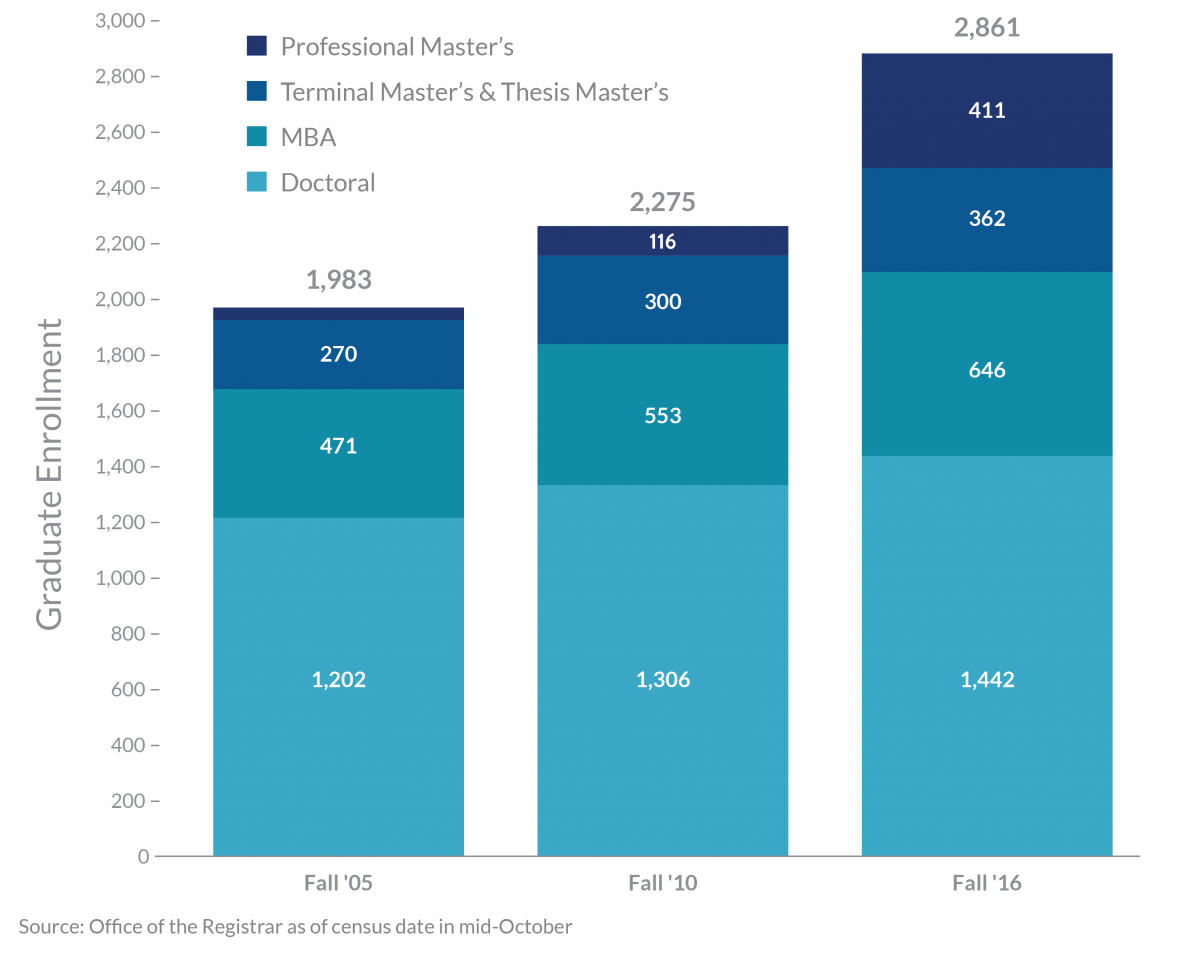 Examples of V2C Progress:
Office of Graduate and Postdoctoral Studies — Since 2007, the dean of graduate and postdoctoral studies has worked with departments, deans and other university leaders to help develop university-wide policies that advance recruitment, retention, mentoring, placement and programs.
Professional Development and Immersive Learning — The Office of Graduate and Postdoctoral Studies provides opportunities for professional development through workshops, classes, competitions, professional networking and other support services. The Shepherd School of Music's relationship with the New York Philharmonic Global Academy is one example of a school-based advancement that is providing graduate students with immersive experiences.
Research Facilities — The BioScience Research Collaborative, Brockman Hall for Physics, a supercomputer and the powerful Titan microscope are just some examples of new facilities and equipment that serve as recruiting tools. Additionally, Rice and the Texas Medical Center have enhanced administrative relationships that allow researchers to more easily collaborate and use equipment between the two institutions. These new agreements are particularly helpful to international students whose visa status often limited their ability to conduct inter-institutional research.
Postdoctoral Scholars — The new Rice Academy Postdoctoral Fellows program, launched in 2016, invites a cohort of the brightest young researchers to come to Rice and work collaboratively across disciplines on a single research initiative for two years. The 2017 competition focuses exclusively on topics broadly related to health, inequality, and data science.
New Graduate degree programs — Several new graduate degrees and programs have commenced in the past decade:
Ph.D. in Art History
Ph.D. in Business
Ph.D. in Sociology
Ph.D. in Systems, Synthetic, and Physical Biology
Ph.D. in Materials Science and NanoEngineering
Dual Ph.Ds. in History (with Instituto Mora and Campinas)
Artist Diploma in Music
Master of Arts in Accounting (revived)
Master of Arts in Architecture (formerly Option III)
Master of Science in BioScience and Health Policy
Master of Arts in Business
Master in Computational Science and Engineering (revived)
Master of Energy Economics
Master of Arts in Global Affairs
Master of Science in Space Studies
Certificate in Critical and Cultural Theory
Certificate in Study of Women Gender and Sexuality
Certificate in Gnosticism, Esotericism, and Mysticism
Certificate in Teaching and Learning