We must become an international university, with a more significant orientation toward Asia and Latin America than now characterizes our commitments.
Undergraduate international enrollment has quadrupled from 3 percent to 12 percent of the student body over the course of the V2C. We have established many more programs and partnerships with top universities and think tanks in both Asia and Latin America. Our faculty has become extraordinarily international, and more than 880 international research scholars and faculty were on campus in academic year 2015–16. We are beginning to establish dual-degree programs with foreign universities. Finally, undergraduate students have ever increasing opportunities for international exposure through coursework, study abroad, research and internship opportunities.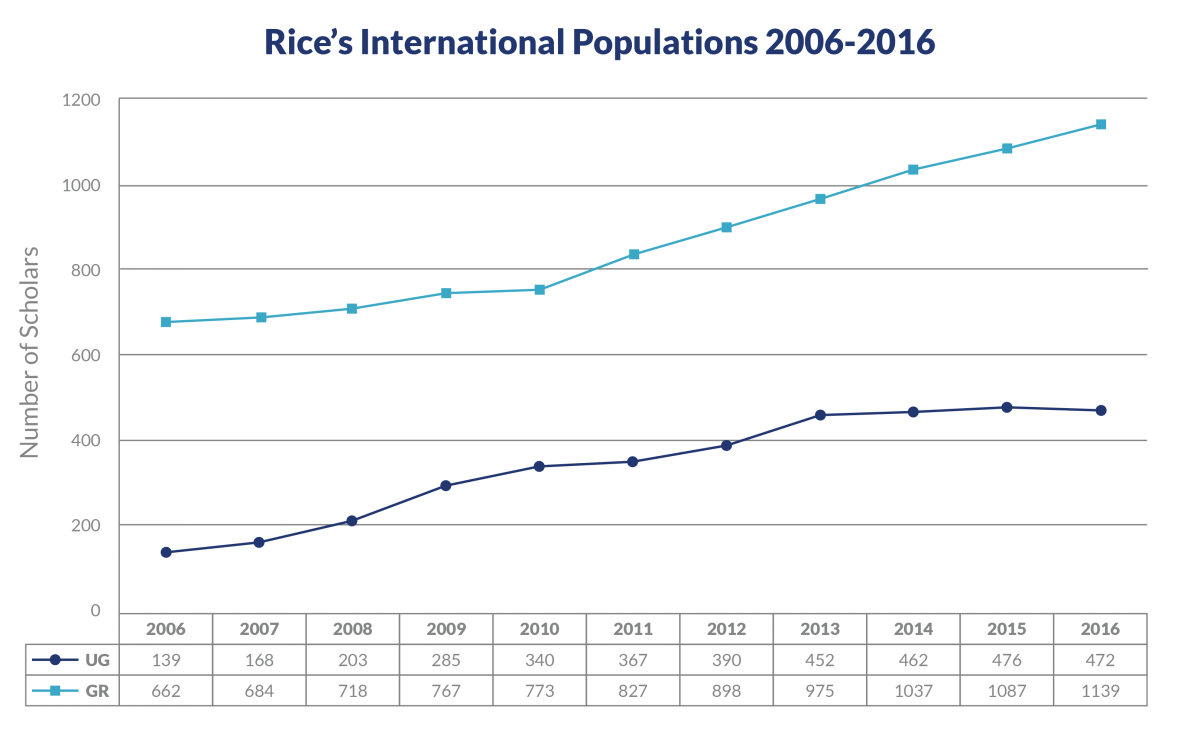 Examples of V2C Progress:
Latin America — Rice has hired a number of faculty in different disciplines who focus on Latin American issues and culture, and the university began offering a new major in Latin American studies. The history department now offers two dual Ph.D. programs with the Instituto Mora in Mexico and the University of Campinas in Brazil. Rice established new agreements with the National Council of Science and Education of Mexico, several Brazilian institutions through the Brasil@Rice program, and several universities and institutions in Brazil. The Baker Institute's Puentes Consortium is made up of six universities from Mexico and the U.S. and brings together scholars around pressing topics, such as border health issues affecting both countries.
Asia — Rice has forged new agreements with several Asia universities to promote joint research and collaboration, and recently, we hosted the US–China University Presidents Roundtable, which gathered more than 50 major U.S. and Chinese universities to discuss global education. The Rice Smalley-Curl Institute conducts bilateral workshops with Peking University's International Collaborative Center for Quantum Materials. Shandong University and Rice have a Joint Center for Carbon Nanomaterials, and Shanghai University has partnered with the Jones Graduate School of Business Masters in Accounting Program that allows for a dual degree. The Nakatani Research and International Experiences for Students (RIES) Fellowship allows undergraduate students in science and engineering to participate in summer research internships at Rice and in Japan.
Rice Academic Programs — The Center for Languages and Intercultural Communication evolved out of the Center of Languages and seeks to provide substantive second language programs that include international education experiences. The center offers eight Rice-in-Country study aboard programs in Argentina, China, France, Germany, India, Japan, Korea and Spain. Academic programs such as the Program in Jewish Studies offer classes that include an international component with an associated spring break trip. The School of Social Sciences offers a variety of international experiences through the Gateway Program, including comparative urban politics programs in Barcelona, Istanbul and London.