We must continue to invest in our professional schools in architecture, management and music, as well as the Baker Institute for Public Policy, and seek ways to integrate their success into the broader university.
The strength and reputation of our professional schools have risen considerably with the continued advancement of the Jones Graduate School of Business, whose full-time MBA program is now ranked No. 8, and the Baker Institute for Public Policy, which is ranked No. 4 among university-based think tanks. The Rice School of Architecture and Shepherd School of Music continued to maintain their position among the top national programs. We are on a trajectory to build a new music and performing arts center for the Shepherd School, raising the profile of its opera program and solidifying its international standing. Both the Jones School of Business and the Baker Institute have become more deeply integrated into the undergraduate curriculum, further enhancing Rice's education and reputation for excellence. The Kinder Institute for Urban Research is positioned locally and internationally to advance understanding of the most important issues facing Houston and other leading urban centers.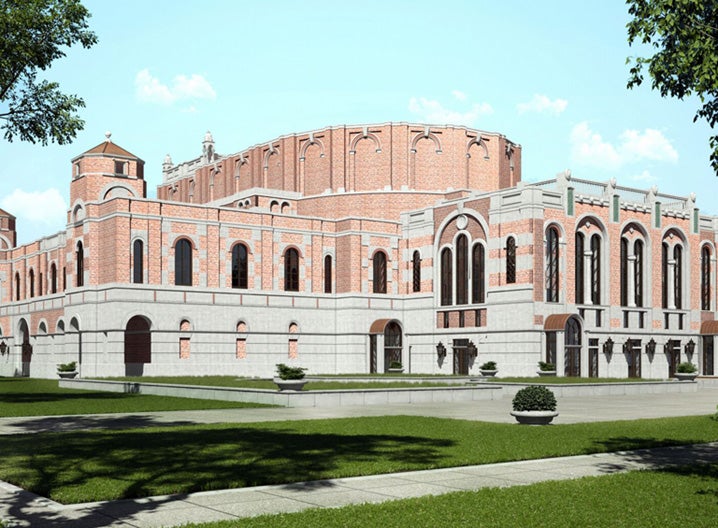 Examples of V2C Progress:
Jones Graduate School of Business — Nationally and globally, the Rice MBA continues to be recognized for excellence by major media such as U.S. News and World Report, Financial Times, Princeton Review and, most recently, Bloomberg Businessweek, which ranked the Jones Graduate School of Business Full-Time MBA Program No. 8 in the country. This top-10 designation puts Rice Business in the company of the nation's most distinguished business schools.
Baker Institute for Public Policy — The institute currently ranks No. 4 among university-affiliated think tanks worldwide, No. 18 among U.S. think tanks and No. 2 among energy resource think tanks, according to a 2015 study by the University of Pennsylvania's Think Tanks and Civil Societies Program. The institute welcomed its first cohort to the Master of Global Affairs program in 2015, and it now has five major centers of study including the Center for Energy Studies, Center for Health & Biosciences, Center for the Middle East, McNair Center for Entrepreneurship and Innovation, and the Mexico Center.
Rice Architecture — The John J. Casbarian Travel Fund and several other awards support undergraduate and graduate studio travel and self-directed summer travel to domestic and international locations. A comprehensive, four-year Totalization studio integrates fall course travel to New York and leverages the expertise of renowned consultants and RSA alumni. Rice Architecture's second century also has included a revitalization of Anderson Hall, which now includes the state-of-the-art Gensler Fabrication Lab, enhanced technology offerings in various rooms and increased transparency between spaces, creating a more open and welcoming environment.
The Shepherd School of Music — The school maintains its status as one of the most prominent music schools in the country. Recently, six Rice students were selected to participate in the New York Philharmonic Global Academy Fellowship, which is a week-long immersive program that includes training and playing alongside Philharmonic musicians. The school plans to break ground on a new music and performing arts center in September 2017, pending completion of the funding campaign. The new structure will be connected by a plaza to the school's current facility and will form the Rice Music and Performing Arts Center. The new building is expected to be open to students and the general public in July 2020.
Kinder Institute for Urban Research — Established in 2010, the Kinder Institute seeks to advance understanding of the most important issues facing Houston and other leading urban centers through rigorous research, policy analysis and public outreach. The institute collaborates with civic and political leaders to implement promising solutions to critical urban issues, including transportation, education, health care and other urban challenges. One of its signature programs is the Kinder Houston Area Survey, which has measured the continuities and changes in demographic patterns, life experiences, attitudes and beliefs of Harris County residents for more than 30 years.