We must provide a holistic undergraduate experience that equips our students with the knowledge, the skills and the values to make a distinctive impact in the world.
Much progress has been made in strengthening our student experience by providing opportunities to take on real-world challenges and contribute solutions, from hands-on design programs that put students' problem-solving skills and creativity to the test, to leadership and entrepreneurship programs that complement classroom instruction, to more opportunities on campus, within our city and around the globe. For example, engineering undergraduates are designing innovative, low-cost medical devices that allow for advances in medical care in parts of the world with limited resources. Additionally, expanded programs for communication, professional development and academic, wellness and career advising are helping students grow intellectually and professionally. One example is the Center for Written, Oral and Visual Communications, which provides workshops and one-to-one coaching as students develop presentations and papers for classwork and research competitions.
Rice Education of the Future
In 2014, as part of the Rice Education of the Future initiative, the Student Association conducted a survey that indicated the importance of balancing the classroom education with experiential learning opportunities: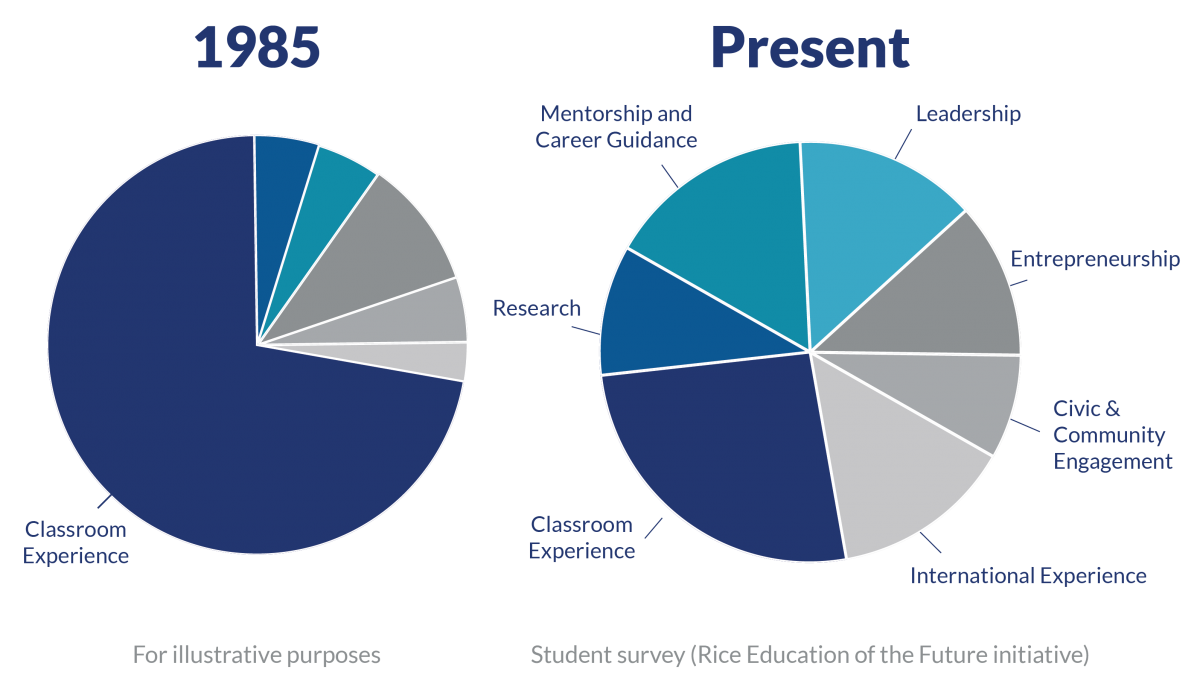 Examples of V2C Progress:
International Engagement — Students now have an active role in addressing global issues through the Rice 360° Institute for Global Health and the Social Sciences Gateway programs, and they have more access to travel opportunities through the Center for Languages & Intercultural Communication, international travel funds, and studios and courses that incorporate an international travel component.
Civic Engagement — The Center for Civic Leadership combines academic rigor, experiential learning and volunteer service to cultivate future civic leaders, while student clubs like Engineers Without Borders and RSVP tackle civic problems in Houston and globally. More than 200 students participated in the 2016 Outreach Day designed to teach participants about social issues facing Houston and to encourage ongoing civic engagement.
Leadership and Entrepreneurship — The Doerr Institute for New Leaders, launched in 2015, provides tailored leadership coaching to students from every major, while school-based programs like the Rice Center for Engineering Leadership provide focused academic training and real-world problem solving. New entrepreneurship programs such as the Liu Idea Lab for Innovation and Entrepreneurship (Lilie) and OwlSpark round out the leadership ecosystem by adding project-based courses and startup mentorship, while a business minor is providing all undergraduates with the opportunity to build business acumen.
Undergraduate Research and Experiential Learning — Sixty percent of our natural science students are now taking part in research opportunities outside the classroom. The Oshman Engineering Design Kitchen, a dynamic facility dedicated to undergraduate engineering innovation, has become a model that is being considered for other academic areas. The Baker Institute for Public Policy and the Social Science Gateway Program are just a couple examples where students are applying their classroom learning to research projects that provide professional exposure. The new Owl Edge Experience Fund provides financial assistance for summer research experiences and professional development opportunities. A major focus of the university's Quality Enhancement Plan is to expand opportunities for experiential inquiry and research for undergraduates and provide training opportunities for graduate students.
Professional Development —The Center for Career Development offers enhanced programs, services and resources to guide students pursuing career goals. The Owl Edge Career Mentoring program matches alumni and students for externships and internships, and the HEDGE program in the School of Humanities helps humanities graduates understand alternative career paths. Finally, the new Sallyportal website fosters professional development, mentorship and career networking between students, alumni and parents.
Academic Excellence — The Center for Teaching Excellence seeks to transform teaching through mentoring, innovative practices, collaboration, scholarship and advocacy. The Center for Written, Oral and Visual Communication — which is open to undergraduates, graduates, postdoctoral fellows, faculty and staff — provides feedback on written texts and oral/visual presentations.
Enhancing Access and Opportunity— Rice is a founding member of the American Talent Initiative, a new alliance that unites 30 of the most respected colleges and universities in the U.S. in a national effort to enroll and graduate more high-achieving, lower-income students. This effort complements other Rice programs under the Student Success Initiatives, including the Rice Emerging Scholars Program, which is designed to help incoming first-year students with the demanding pace, depth and rigor of a STEM curriculum. Thanks in part to continued philanthropic support from the Rice community, including more than $100 million in new scholarship endowments raised through the Centennial Campaign (2005–2013), Rice is sustaining its commitment to access. Nearly 60 percent of all undergraduate students at Rice receive some form of financial aid.