We must increase the size of the university to realize more fully our ambition as an institution of national and international distinction that attracts the very best students and researchers from around the globe.
Rice has not only increased the size, but also the diversity, of our student body. We grew from about 2,900 to about 3,800 undergraduates and also increased graduate student enrollment by a similar amount for a total of about 6,600 students. Rice is now a community where there is no majority demographic group. Our annual undergraduate applicant pool has more than doubled in the past 10 years with a shift in the admittance rate from 24 percent in 2006 to 15 percent for the class that entered in fall 2016. We have maintained our commitment to need-blind admissions for domestic students. Rice is ranked No. 15 among national research universities by U.S. News & World Report (2017).
Undergraduate diversity has increased: Degree-seeking domestic students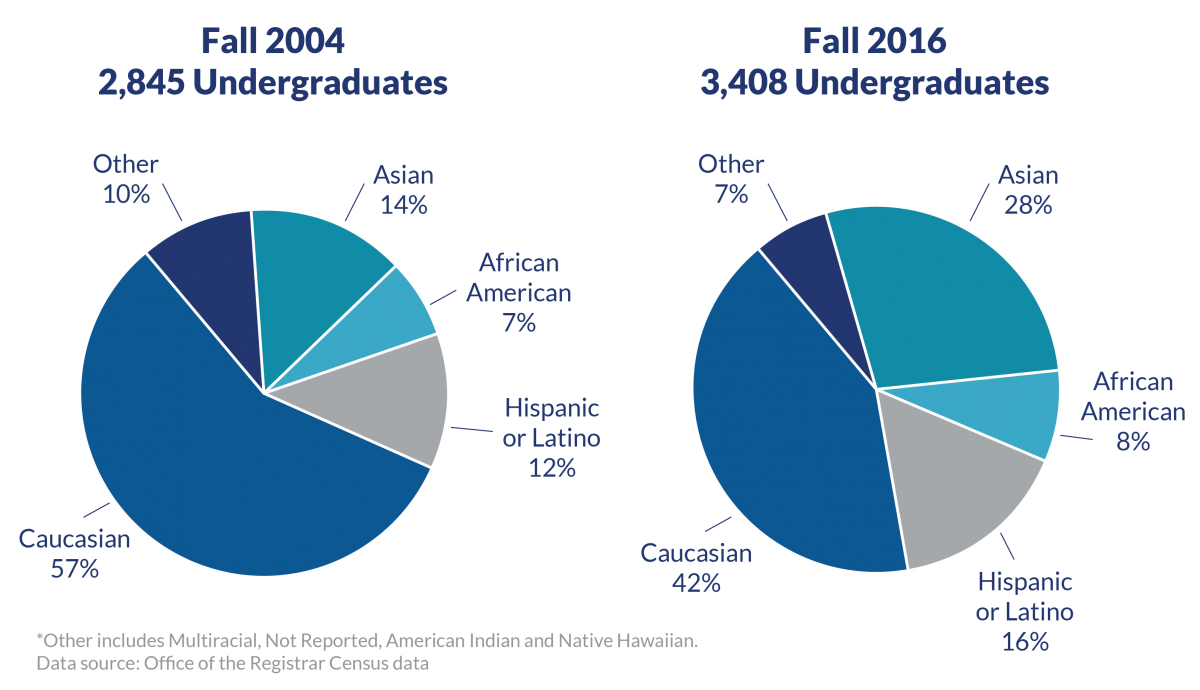 Examples of V2C Progress
Rankings — National rankings, while not a perfect science, do provide insight as to how Rice performs against peer institutions. In 2016, Rice ranked No. 1 both for happiest students and for race/class interactions by the Princeton Review. Additionally, Rice ranked in the top 10 for best quality of life and colleges that pay you back. Our career placement, financial aid and health services programs also received high rankings. U.S. News & World Report ranked Rice No. 15 in the 2017 edition of Best Colleges. Rice is No. 6 in the nation with an "A+" rating according to Niche.com, which analyzes a range of data — academic, admissions, financial and student life — from the U.S. Department of Education and millions of college reviews and survey responses.
Residential Colleges — Rice's hallmark residential college system, which celebrates its 60th anniversary in 2017, remains at the heart of campus life. Duncan and McMurty Colleges, among Houston's first LEED Gold certified buildings, were vital to the expansion of Rice's student body and have strengthened a dynamic, distinctive and environmentally sustainable residential college system that attracts students from around the world.
Engagement with Houston — The Center for Civic Leadership fosters engaged citizenship in undergraduate students through research and service projects with the city and area non-profits. The Passport to Houston program encourages students to explore our amazing city and to be more community-oriented, socially-engaged and culturally aware. The program provides free or reduced-cost access to many Houston museums and attractions, as well as the METRO system.